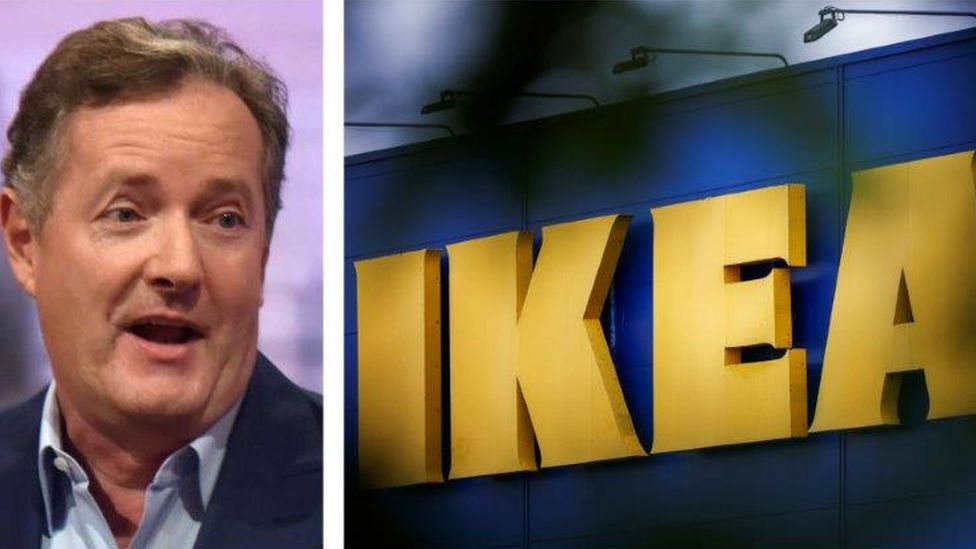 Broadcaster Piers Morgan has attacked Ikea after it became one of a number of companies to withdraw advertising from newly launched news channel GB News.
The former Good Morning Britain anchor said the Swedish furniture makers were "pathetic virtue-signalling twerps" and that he would now be boycotting them.
Ikea said it had not knowingly booked slots on GB News, saying it was not in line with its "humanistic values".
Andrew Neil, GB News' chairman, issued his own response to the decision.
"Ikea has decided to boycott GB News because of our alleged values," he wrote on Twitter.
"Here are Ikea's values - a French CEO who is a criminal with a two year suspended jail sentence for spying on staff."
The company's French arm was fined €1m (£860,000) this week after it was found guilty of using private detectives and police officers to collect staff's private data.
Jean-Louis Baillot, Ikea France's former CEO, was given a two-year suspended jail term and a €50,000 (£43,000) fine. His lawyer said he was considering an appeal.
Octopus Energy and cider firm Kopparberg are among the other brands that have withdrawn advertising since GB News' launch on Sunday.
Kopparberg said its advert ran "without our knowledge" and that it was undertaking a review of the channel's content.
A post on the its Twitter account said: "Kopparberg is a drink for everyone and we have immediately suspended our ads from this channel pending further review of its content."
pg slot
Octopus said it would only run ads in future if the news channel proved "genuinely balanced".
Greg Jackson, the company's founder, said it did not advertise on platforms "whose primary purpose is the distribution of hate" and said it would only run adverts on new channels after watching their output for a period of time.
The Open University and Ovo Energy also said they were pausing advertising, which they said had been placed by a media partnership without their knowledge.
GB News has vowed to fight cancel culture and reflect voices not heard in the media.
But it has faced criticism from campaigners such as the group Stop Funding Hate, who say its launch brings highly partisan Fox News-style programming to the UK.
Neil, the BBC's former political presenter, has dismissed the Fox News comparisons as "nonsense".
As chairman and a presenter, he has promised to challenge the "echo chamber" of the "metropolitan" news.